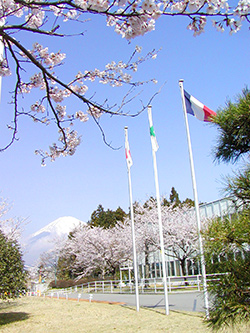 Japan's only L'Oréal plant and its only luxury product plant in Asia
Cosmelor is one of the L'Oréal Group's local subsidiaries and one of its 45 worldwide plants. We are located in Gotemba City, Shizuoka Prefecture, right next to Mt. Fuji. Cosmelor is one of the Group's 6 plants in Asia, but it is the only one that produces luxury products for sale at department stores.
Main brands are Lancome and Shu Uemura
Cosmelor was built in 1970 as a Helena Rubinstein plant and was integrated into the L'Oréal Group in 1985. Shu Uemura production was aggregated at Cosmelor in 2003; we are in charge of producing all products sold throughout the world. A total of 90% of Cosmelor's production is for Lancôme and Shu Uemura, with 70% being skincare and 30% being makeup.
---
| | |
| --- | --- |
| Company name | Cosmelor Ltd. |
| President | Jean-Pierre CHARRITON |
| Established | 1970 |
| Business | Cosmetic manufacturing (skincare products, makeup products) |
| Plant location | 430-8 Kamado, Gotemba-shi, Shizuoka Prefecture 412-0039 |
| Number of employees | 220 |
| Major brands | Lancome, Shu Uemura, Helena Rubinstein, Biotherm, Giorgio Armani Cosmetics |
---
PRODUCTION
Using its advanced quality capabilities, productivity, and response abilities, this department manufactures cosmetic raw materials, and fills and completes products. It introduces new production facilities and replaces existing facilities to safely create high-quality products with more efficiency.
QUALITY
While meeting L'Oréal's quality standards and the legal requirements of various countries, this department also confirms the quality of products that are shipped to customers. It serves a central role in company-wide quality initiatives.
ENVIRONMENT, HEALTH & SAFETY
This department ensures that all plant tasks are performed safely, hygienically, and with the least environmental risk possible.
MANUFACTURING SUPPLY CHAIN
This department formulates production plans based on scheduled sales volumes around the world. It procures the necessary raw materials, containers, and packaging materials, and makes arrangements so that products are shipped from the plant in a timely manner.
FLOW & SUBCONTRACTING
This department is in charge of logistics for the materials that enter the plant (raw materials, containers, and packing materials) and the products that are shipped from the plant. It also organizes and manages cosmetic production activities by partner companies.